The Best Pest Control Company in Lubbock, TX!
Are you dealing with a pest control problem in Lubbock, TX? Get the instant relief you need and long-term protection you deserve! To get started, request a quote online.
Our Pest Control Services
100% Satisfaction Guaranteed
Here at Zeroach Pest & Termite, we do our best to show up on time, treat your home with respect, and get rid of your pest or rodent problem right the first time around. So in the unlikely event you're not satisfied with your most recent service, simply give us a call. We'll come back and retreat your home at no additional cost to you, we 100% guarantee it!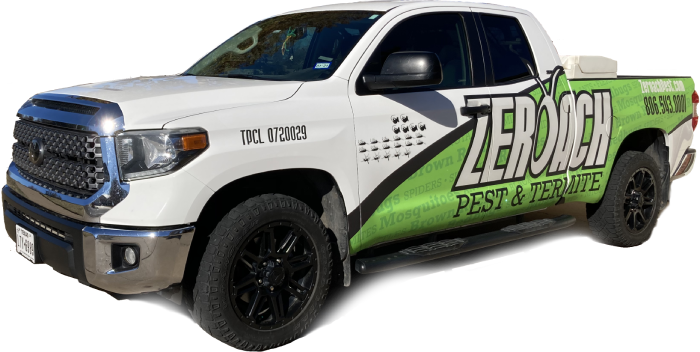 What Our Customers Have To Say
★★★★★
"I appreciate Matt Britton and his diligent work in making sure all the bed bugs and roaches were eliminated for me. He is very, kind, thorough, caring, and helpful to help me. I would highly recommend him and Zeroach to anyone in need. Matthew comes back to check to make sure the work is eliminating the problem. He's not just a one-time sprayer and leaves you as he is very caring about his patrons."
- Virgie B.
★★★★★
"Matt and his team are amazing every time we work with them! They service our home for regular prevention and mosquito control in peak months and have done termite work on a few properties. They are super knowledgeable, professional, respectful of your appointment time, and very reasonable. This is who you need to call in Lubbock!"
- Charity L.
★★★★★
"I highly recommend this company! Matt is absolutely amazing. He is very professional, punctual, respectful, honest, hard-working, compassionate, reasonably priced, thorough, and even gave me advice about my sickly children. The advice he gave me, when I researched, turned out to be 100% accurate. I am beyond grateful and greatly appreciate this man's commitment to his job."
- Valeri G.
Our Rodent & Pest Control Coupons
15% OFF
Your First
Service
First time doing business with Zeroach Pest & Termite? Get 15% OFF your initial purchase! The more you spend, the more you save.
$10 OFF On Each Customer Referral
Refer your family or friends and you both get $10 OFF the next pest control service for each referral you send our way.
Get A Free Bedbug Inspection
Think you may have some thirsty visitors? We will do a thorough inspection of your household free of charge.